CLUB
phone number

en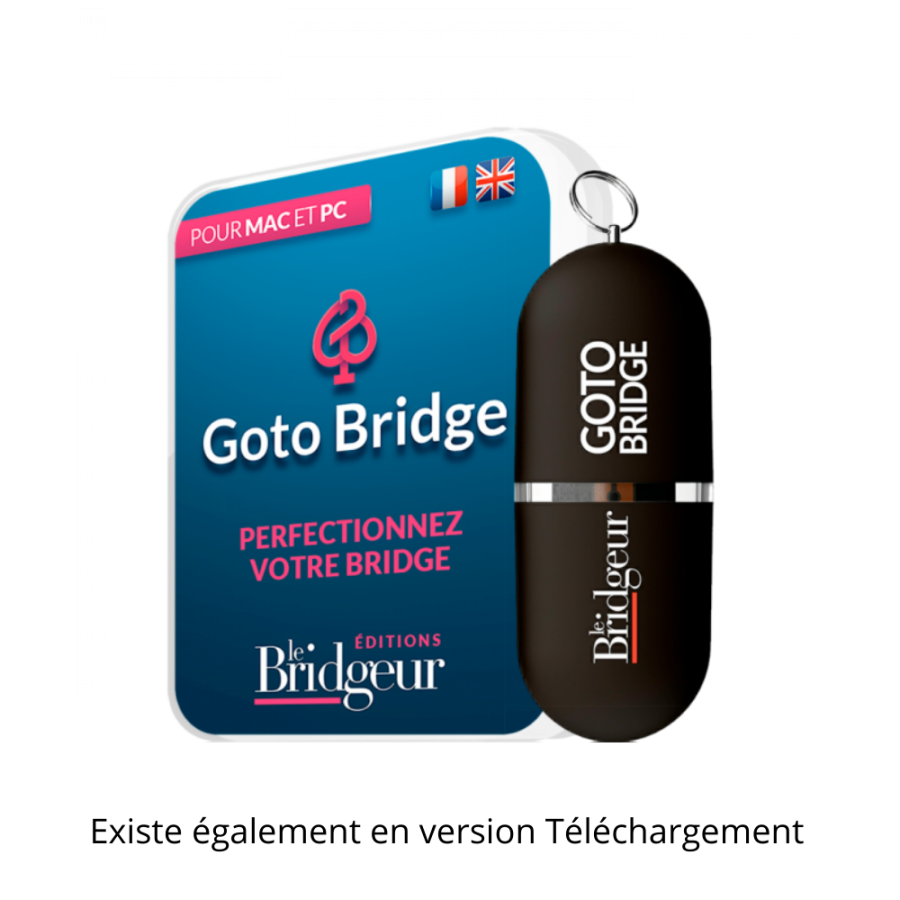 GOTO Bridge - Editions Le Bridreur - USB key
Discover the latest version of Bridge's software benchmark!
Do you know the basics of bridge and want to improve your skills while having fun? GOTO Bridge is for you!
Only in French
Read full description
Also Consider

Our selection for you
Compatibilities:
• USB key version
The USB Key is compatible with:
- PC: Windows 7, 8 or 10
- MAC: OSX 10.10 (Yosemite) and above / 64-bit processor.
Contents of the game:
This new version of the GOTO BRIDGE software returns with:
- 30 lessons developed by bridge experts.
- 400 exercises.
- The ability to play offline.
- Customizable workouts.
- Corrections to bids and best card to play.
Lessons and exercises
30 lessons on bidding and card play accompanied by 400 practical exercises with their solutions to be played over and over again.
Customizable workouts
Progress where you need to with personalized workouts. Choose the type of contract, auction sequence or distribution you want.
Play without an internet connection
With GOTO Bridge, you don't need to be connected to the Internet to play! You play where and when you want.
Goto bridge is also ...
Easy deals for beginners, free deals to chain games, several bidding systems including the French Major 5ème system and a free profile, correcting your bids and advice from the game engine.
Set up your own conventions and languages
Many auction systems are available in GOTO Bridge: the French system Majeure 5ème, the SAYC (Standard American Yellow Card), the English system ACOL, the Polish system, the Nordic system, the NBB Standard system, the Forum D system or the 2/1 system. These systems are available at several levels: beginner, intermediate or advanced. You also have the possibility to define your own conventions thanks to a "free profile".
Developed by bridge specialists
The developers behind GOTO Bridge are not at their first attempt. Indeed, it is the same bridge enthusiasts, including Jérôme Rombaut, vice-world champion in bridge 2017, who are developing the world-famous Funbridge bridge application.
NO RETURN OR EXCHANGE.
Logiciels Pas à Pas

Saison 2