Reading a digital book is very easy!
Download an eBook reader (reading application for pc / mac, tablet or phone) or own an e-reader.
Read your digital book.
There are several eBook formats, but most of the digital books on the market are in the ePub format. They can be easily recognized thanks to their .epub extension
This format will be the one used on most PC / MAC, tablet / iPad, Android phone, Windows, ios, Apple for example.
There is another format dedicated to the Amazon Kindle reader, it is the Mobi format that can be recognized by its .mobi extension.
On bridge-eshop we have therefore chosen to offer you these two formats.
In order to help you make the right choice, we provide you with extracts in both formats.
Click the buttons below to download them to your playback medium and verify that it works.
How to download, install and read your eBook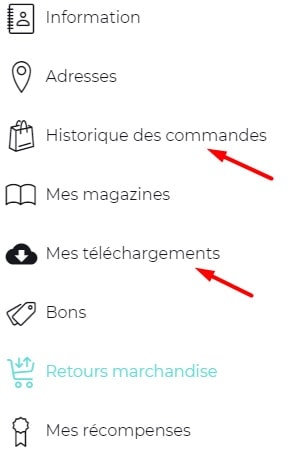 To download your digital book, after logging into your bridge-eshop customer account, you have two methods:
Méthode 1
Click on my downloads.
Then on Download and the download icon.
Save on your pc / mac or tablet for example.
Méthode 2
Go through your order history.
Click on details
Then further down in the Virtual link list section click on download and on the download icon.
Good to know it is from this space that you can contact us regarding your purchase.
2- Install your eBook on your reading medium
This is the penultimate step before enjoying your reading quietly.
If you downloaded the eBook directly to your reading medium (such as a PC / Mac computer, tablet, iPad or phone) You can skip to step 3.
Otherwise, you probably find yourself in the situation where you want to transfer the downloaded file to your eReader.
In both cases, you must now connect your e-reader to your PC / Mac using the appropriate cable (usually USB)
Once connected, open the folder where the downloaded file is located, right click and copy.
Open the folder where you want to transfer this file (so your e-reader, Kobo or Kindle for example) and right-click in the folder then paste.
Here is the file is on your reader, easy not?
You can also drag and drop the downloaded file from one folder to another.
In any case if you get stuck at this stage, you can contact us at 01.42.96.25.50 we will be happy to help you.
3- read your digital book
We are not there a few minutes before knowing everything about bridge!
If you have installed the downloaded file on your eReader and enjoy reading it, you're done.
On the other hand, if you downloaded this file on another medium, you may need to download a "reader", it is a small software which will allow you to read the eBook.
Here is a link to install one of the most common on your PC or Mac Adobe Digital Edition reader download and installation is simple and Adobe has attached a quick start guide.
On smartphone or tablet:
If you have an iPad or iPhone, place the epub on your hardware through iTunes. (from your pc / mac as seen above) The books added in this way will be visible in the default iBooks application.
If you have an Android tablet, an app may already be installed and it will be automatic otherwise, Nexus, Kobo…), we recommend Aldiko for example, but there are many others.