Personalize your bridge, poker, belote cards ... with the colors of your club, your logo, personalized text.
Offering unique card games is the assurance of making an unforgettable gift.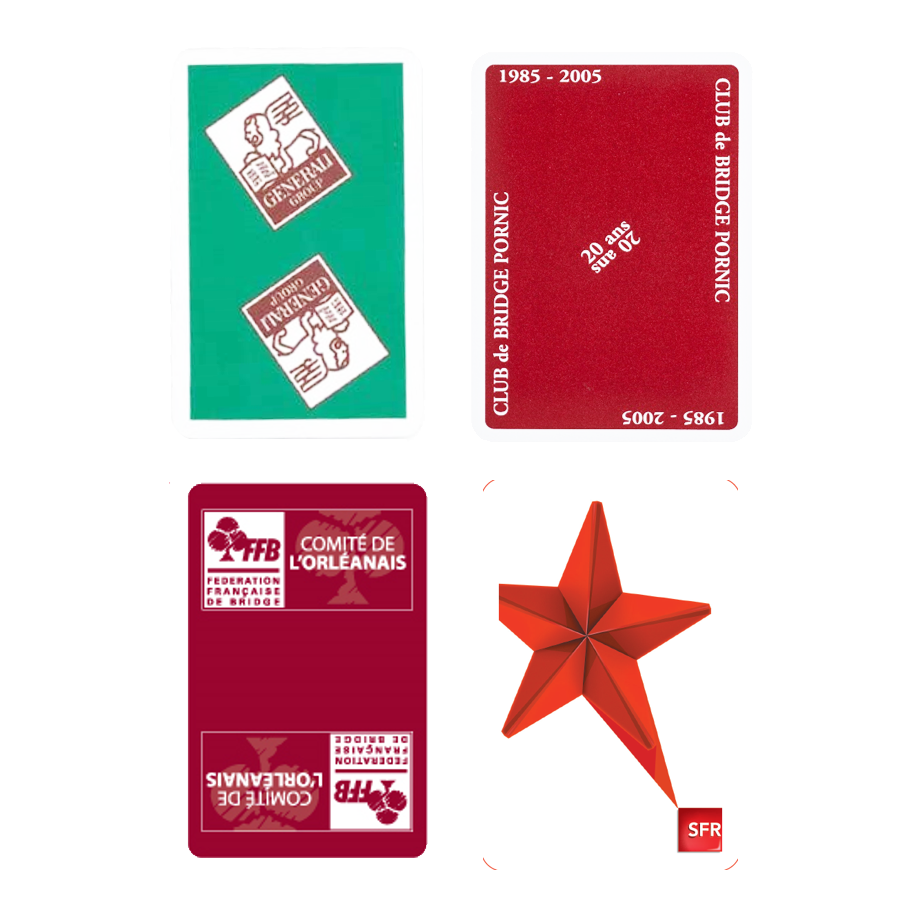 The Bridger offers you to have your logo or / and your text printed on the back of quality cards.
Characteristics:
Presentation in cellophane and cellophane
French portraits, index at the four corners
Format: 58x88 mm white rotating edge
Density: 320g / m²
52-card deck + 3 jokers
Decreasing prices according to the quantity requested (300 games minimum, prices for information only)
What are the printing methods for my personalized decks of cards?
We use two printing techniques to print the cards for your personalized card decks, digital and offset.
The choice will be oriented according to the type of game and the quantities of games desired. Cheaper digital printing but offset printing results in better quality cartons.
How are the colors of the cards of my personalized card decks managed?
We can print the cards of your personalized card decks in 1, 2, 3 Pantone colors or in Full color. White is not printed, it is said to be in reserve, and therefore is not counted towards the number of colors in your marking. Pantone colors allow a precise color to be respected when printing. A metallic Pantone (Gold, Bronze, etc.) counts as 2 colors and the production time can be extended.
How many cards are in a custom card deck?
In standard formats we offer decks of 33, 55 or even 80 cards.
What formats are available for my personalized cards?
Often the card format of your personalized card decks depends on the type of game mechanics: Tarot, Belote, Bridge…
How are my personalized decks of cards packaged?
Your personalized decks of cards are delivered in cellophane. You can choose, as an option, a personalized cardboard box or a single or double transparent plastic box inside.