CLUB
phone number

en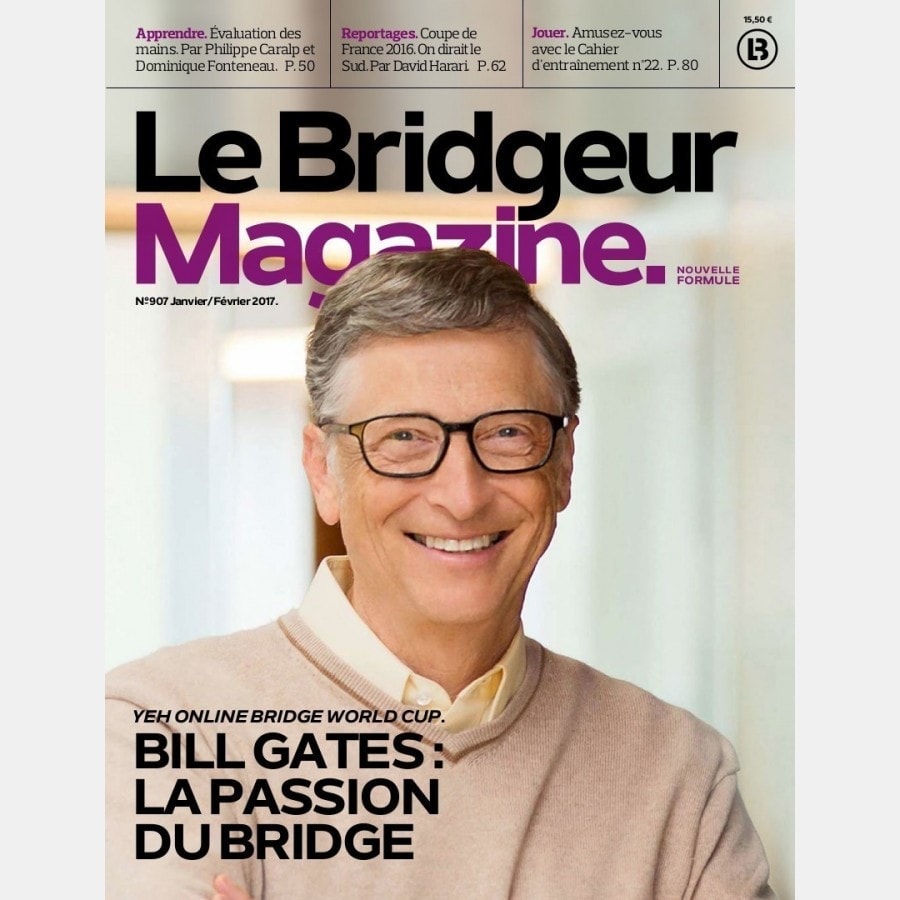 Le Bridgeur January / February 2017
700 million
of Chinese and me and me…
You may have missed a bridge event attended, among other things, by some 400,000 Chinese bridgers. Last November, a competition between representatives from the United States, Europe, China and Taiwan brought together some of the world's greatest champions and very first-rate personalities.
plan. The originality was that some played in Beijing, others in Seattle and, finally, in Turin. The opponents were not at the same table but in front of their computer, thousands of kilometers from each other. For three days, almost 24 hours a day (15 hours jet lag requires), we fought hard on BBO and Our Games, its Asian counterpart.
This revolutionary concept is the work of one who has been one of the only ones for several decades to try to boost and develop bridge in the world: José Damiani. The cast was mixed and prestigious, likely to interest bridge players but, in addition, to attract the attention of Mr. Everyone.


Read full description

Instead, see: Fred Gitelman, Mr. BBO, Bob Hamman, the historic world number 1, our two champions, Sylvie and Bénédicte, leaders of the female classification, the tenors of the Lavazza team, Duboin, Bocchi and Madala and, last but not least , the one whose name is enough to attract the attention of the media of the whole world,
Bill Gates. Including Chinese personalities, they were twenty-four to put themselves at the service of bridge, with the sole objective of a prestigious victory, while their careers displayed all the most glorious titles. Is this the future of bridge, should we encourage it? Yes, no doubt, if we want to offer young people a different mode of access to this game than clubs where the average age exceeds 70 years. Yes, if you want to rid the bridge of its obsolete image. Yes, also answer the financiers of the investment fund who have just acquired Funbridge, demonstrating their confidence in the development of this form of virtual bridge.



Annee

2017

Mois

Janvier

Type de magazine

Magazine Papier