CLUB
phone number

en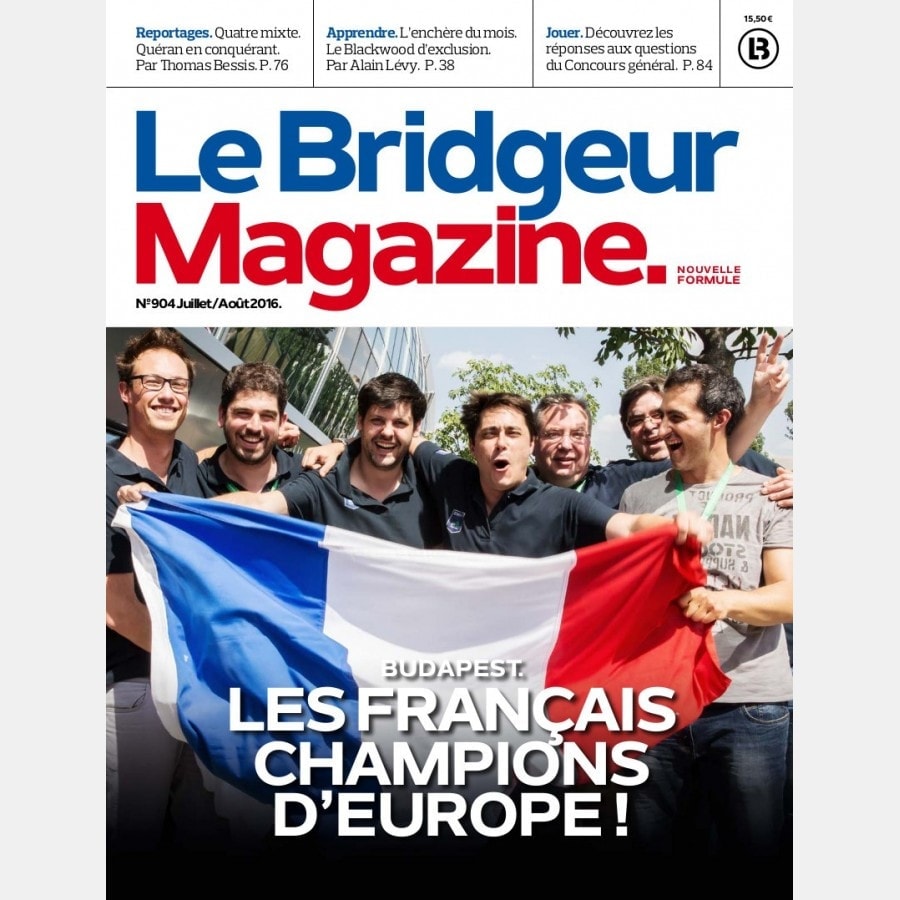 Le Bridgeur July / August 2016
Army to defeat
France is European champion in open teams. A first for thirty-three years (Wiesbaden, 1983)! This victory, acquired even before the last match, finally puts our nation at the top of European bridge. Dominant, the France team has left little hope for the usual legitimate contenders. Built as much on the "big teams" (20-0 against Monaco, Norway and Germany!) As against the less seasoned, this triumph results from a combination combining a game of very good quality, an irreproachable state of mind , a foolproof mind and a zest of luck. This team is above all six friends. Thomas Bessis, François Combescure, Cédric Lorenzini, Jérôme Rombaut, Frédéric Volcker and I hoped from the start (first round of the Selection in September 2015) to experience a common adventure. Consolidated by mutual affection and mutual respect, the French team was then armed to "survive" a trying and nervously exhausting championship. Carried by the strength of the youth of Cédric, Frédéric and Thomas, we therefore became a formidably effective formation and very difficult to beat.
Read full description
100% renewed, our senior team perfectly met the expectations of the Selection Committee and the national technical management: a place in the top six, normally qualifying for the world championship in the category. The French team - Nicolas Déchelette, Georges Iontzeff, Pierre-Yves Guillaumin, Jean-Jacques Palau, Pierre Schmidt and Philippe Toffier - took a little time to find its marks. But she was able to perfectly manage her end of the championship and integrate the group of six at the right time. Well done, gentlemen.
Annee

2016

Mois

Juillet

Type de magazine

Magazine Papier