BRIDGERAMA+
The monthly magazine to progress in bridge
You knew Bridgerama, you like Bridgerama, now discover the enriched version: BRIDGERAMA+
The new, enlarged November issue of Bridgerama+ offers 28 online pages jam-packed with outstanding articles – and it's free!. A world-class team of writers that includes Larry Cohen, Alain Lévy, Andrew Robson, Marc Smith and Pete Hollands show you how to sharpen your playing skills and fine tune your bidding system. Every month our stars will allow you to test yourself, to play and progress but also and above all to have fun.
The English version will be available from November 20
Subscription formulas
Access your content anywhere and anytime on computer, mobile, and tablet.
3,25€ or 3,84$ / month
either 39€ or 46,09$ / year
Découvrez nos magazines de bridge
BRIDGERAMA+
Magazine mensuel - 12 numéros par an - Sans engagement
Vous connaissiez Bridgerama, vous aimiez Bridgerama, découvrez la version enrichie : BRIDGERAMA+.
Retrouvez chaque mois l'esprit des Enchères au bridge développé par les trois champions: Michel Bessis, Philippe Cronier et Jean-Christophe Quantin. Ces rendez-vous incontournables avec nos auteurs s'enrichissent de l'arrivée de nouvelles plumes, Alain Lévy, Cédric Lorenzini qui vous permettront chaque mois de vous tester, de jouer, de progresser mais aussi et surtout de vous amuser !
Les formules d'abonnement
Recevez tous les mois votre revue favorite de bridge dans votre boîte aux lettres.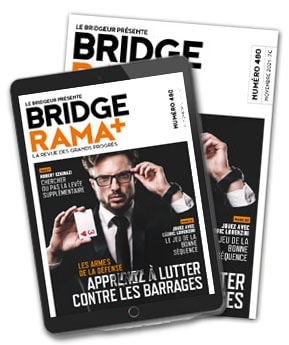 Profitez de tous les avantages qu'offrent le papier et le numérique.