CLUB
phone number

en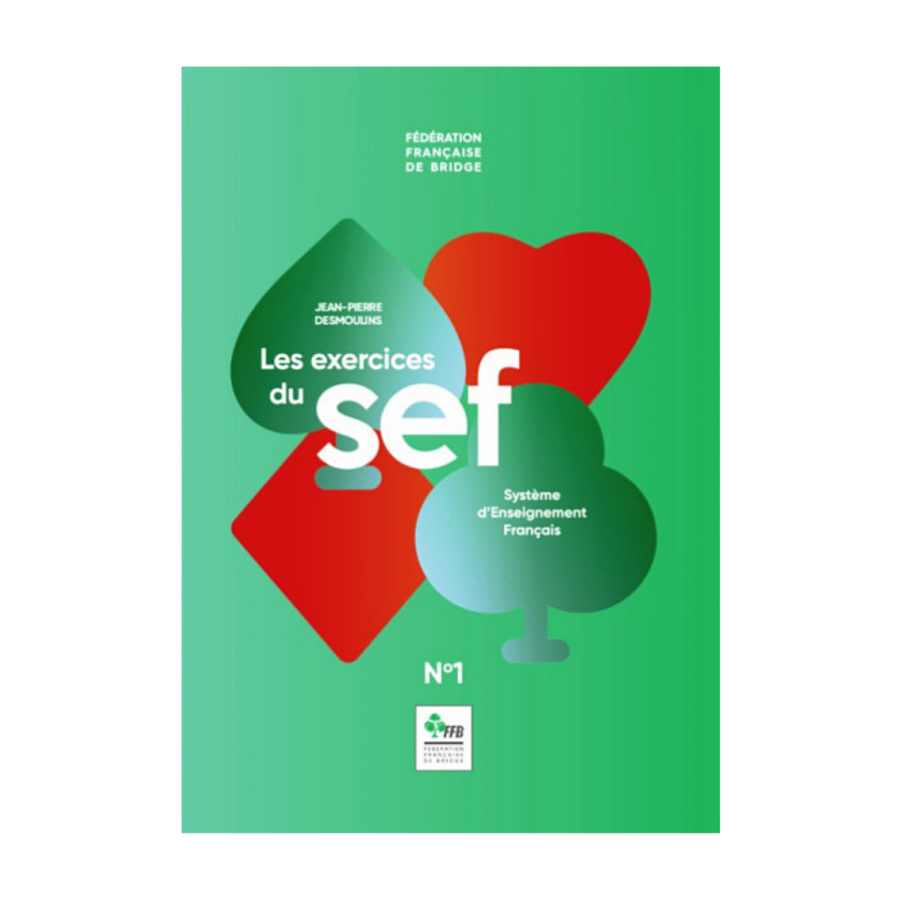 copy of SEF - French education system 2018
FFB
Jean-Pierre Desmoulins
NEW EDITION OF SEF update 2018
A new edition of the SEF is always an event. The SEF is considered by many not only as an educational book but as the "French Standard": a system close to the practice of bridgeurs, consistent, simple and effective with many new features compared to the 2012 update.
Read full description
Also Consider

Our selection for you
NEW EDITION OF SEF update 2018
Succeeding in competitive bridge requires mastering an efficient auction system, the French Teaching System wants to meet this requirement. It presents a clear, complete and accessible method, which brings together the conventions practiced by the majority of players in our country. The SEF is a 100% federal production.
The University of Bridge is the linchpin of its design: this new version was the subject of very broad consultations not only with teachers from all over France, Regional Educational Animators but also champions, then the choices were validated by the National Chamber of Teachers and Training of the FFB, which is the decision maker on all pedagogical issues. The SEF has two objectives. First, it is the objective of knowledge at the end of the development cycle. Second, it is considered by many to be the "French Standard". In this, it is quite complex to write since it is necessary, every six years, to offer French bridgers a system that is both close to their practice, coherent, simple and effective. Imagine the puzzle!
The version of SEF 2018 will remain in mind. The book has been completely redesigned and modernized to bring it closer to what is practiced in clubs, then the best French teachers and players consulted have made it a coherent whole. It gives much more details in competitive auctions than the previous version, which is necessary because this aspect of the game becomes preponderant.
Some new features of SEF 2018: First a revolution: tolerance for a major fifth in the opening of 1SA! Modernized interventions on this same opening with the introduction of the Counter showing a minor at least fifth and a major fourth, which will allow players to intervene much more often. A simple and effective defense against opposing interventions on 1SA - the Rubensohl - but also against Michaël's cue-bid ... You will see that we are far from the bridge of grandpa! Publisher University of bridge FFB
Publisher University of bridge FFB 112 PAGES
Auteur

FFB, Jean-Pierre Desmoulins

Thème

Intérêt général

Niveau de jeu

2 - Confirmé, 3 - Perfectionnement, 4 - Débutant

Language

French

Éditeur

FFB